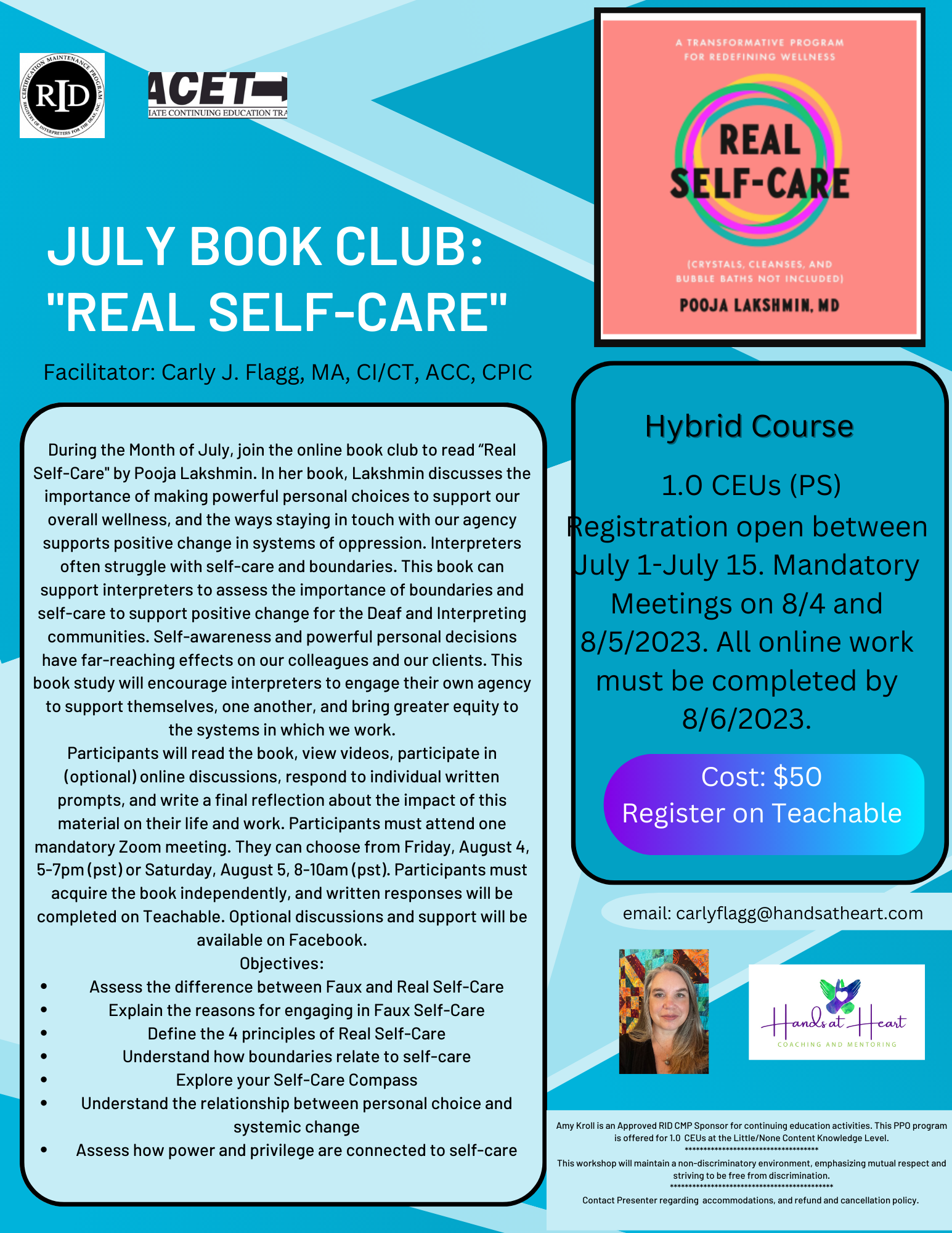 Join us for Reading, Reflection, and Discussion
During the Month of July, join the online book club to read "Real Self-Care'' by Pooja Lakshmin. In her book, Lakshmin discusses the importance of making powerful personal choices to support our overall wellness, and the ways staying in touch with our agency supports positive change in systems of oppression. Interpreters often struggle with self-care and boundaries. This book can support interpreters to assess the importance of boundaries and self-care to support positive change for the Deaf and Interpreting communities. Self-awareness and powerful personal decisions have far-reaching effects on our colleagues and our clients. This book study will encourage interpreters to engage their own agency to support themselves, one another, and bring greater equity to the systems in which we work.

Read, Respond and Discuss
Participants will read the book, view videos, participate in (optional) online discussions, respond to individual written prompts, and write a final reflection about the impact of this material on their life and work. Participants must attend one mandatory Zoom meeting. They can choose from Friday, August 4, 5-7pm (pst) or Saturday, August 5, 8-10am (pst). Participants must acquire the book independently, and written responses will be completed on Teachable. Optional discussions and support will be available on Facebook.
Objectives:
Assess the difference between Faux and Real Self-Care

Explain the reasons for engaging in Faux Self-Care

Define the 4 principles of Real Self-Care

Understand how boundaries relate to self-care

Explore your Self-Care Compass

Understand the relationship between personal choice and systemic change

Assess how power and privilege are connected to self-care
Carly J. Flagg, MA, CI/CT, ACC, CPIC
Carly Flagg works as a Certified Life Coach, Professional Mentor, and Interpreter; she has also been an interpreter educator for nearly 25 years. She is a Certified Compassion Fatigue Educator and is preparing for candidacy to become a Certified Nonviolent Communication Trainer. She brings practical experience and examples to her teaching, as well as a respect for each student's learning style. Participants are encouraged to ask questions, take risks, advocate for their own learning. As a coach, Carly works with service professionals and caregivers to tap into their deep well of compassion, integrity and care to develop practices that cultivate longevity and joy in their careers.